of Dr. Alfredo Maiolese – Italy cv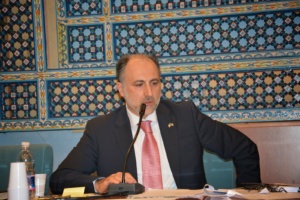 Dr. Alfredo Maiolese married, with three children, has a degree in Economics and Commerce, and a PhD in International Relations. An Expert of taxes he enrolled with Lapet National Association of Tax Consultants.
Engaged for many years in the defence of human rights, he has passed a Special Course in Conflicts run by United Nation College. Ambassador of Peace of EML, Envoy at the International Parliament for Safety and Peace, today he is responsible for the International Cooperation Commission of World Organization of the States.
Expert of the Council of Europe, Strasbourg-France, for religious issue.
Among his other public duties, he is a councillor of Genova, Italy, for Religious Affairs and Member of Board of Cisa (International Council for Solidarity and Hospitality), agency controlled by Local government and Mediator for Social Conflicts ( ADR Mediaform) agency accredited by Italian Ministry of Justice.
Minister of worship working in the penitentiary context. Course organized by Primed and the University of Padua with the collaboration of the Italian Ministry of Education.
Auditor ISO 9001:2015 quality managment system and Auditor UNI EN ISO 19011:2018- ISO 17021-1:2015 Rina, Certified by Aicq Sicev.
Course: The Fiqh of Zakat 2019 Al Balagh Academy
Course; 2022 The Fiqh of Halal Food Al Balagh Academy
Expert for the control of halal food. Course with Dr. Sayed Soliman Shady University of Egypt.
Diploma in Essential Islamic Sciences 2 years course. Al Balagh Academy 2023 Great Britain.